Keeping your children safe

From the day you bring your child home until you're helping them learn to drive – safety is always on your mind as a parent.  At the Brain Injury Alliance of New Jersey, we want to help you keep your kids safe in cars, buses and bikes as they grow. The following is a collection of important safety info, tips and resources just for parents: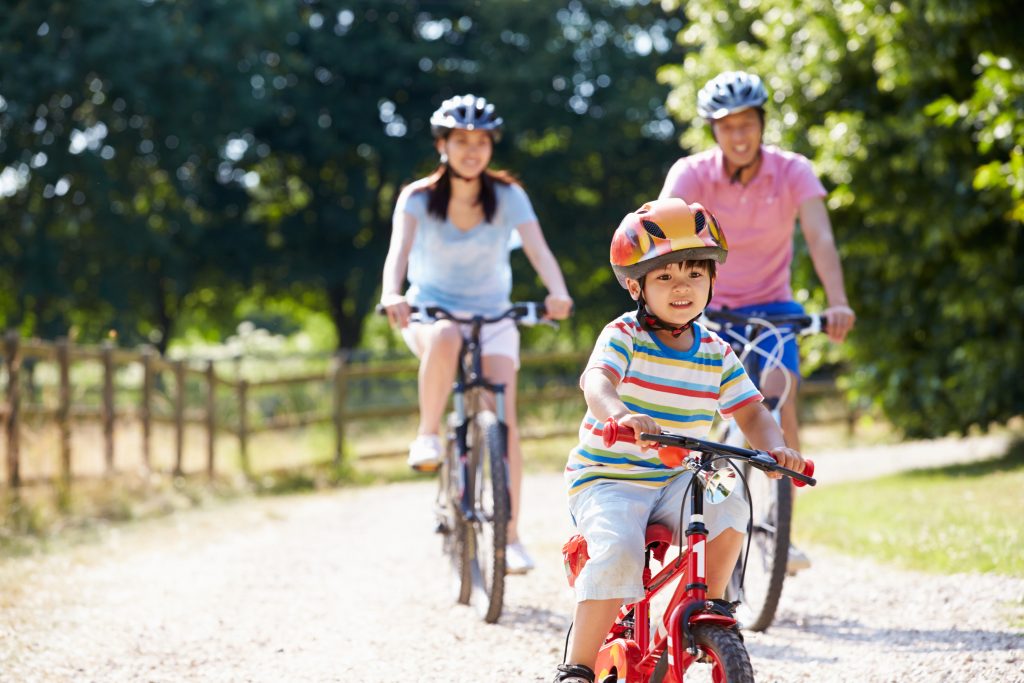 Keeping Kids Safe In The Car

Buckling kids safely into the car can be tricky – from rear-facing or front facing car seats and 5-point harnesses to booster seats and beyond. Here's an easy guide to help you know which type is right for your child and when to make the switch as they grow.  Find the right seat for your child »
Is your car seat safe?
Only 5% of parents install car seats correctly. Make sure your car or booster seats are installed correctly. Have them inspected for FREE!
Bikes, Scooters & Skateboards

As a parent (and former child) you know one thing for sure – kids love anything with wheels. From big wheels to bicycles and scooters to skateboards and rollerblades, they're always on the go. While kids are focused on the fun, you'll be teaching them how to do it safely.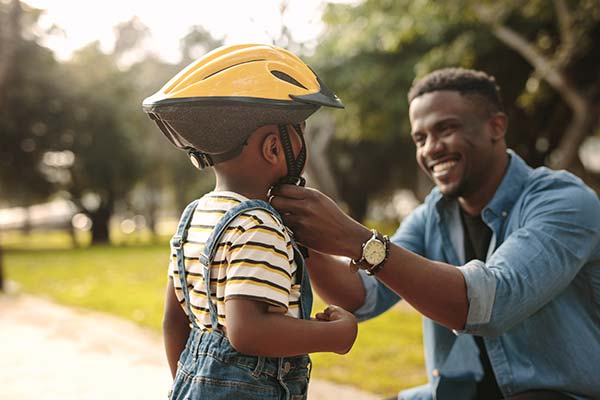 Making sure your kids wear a helmet to protect their head in the event of a crash is a no brainer. But wait! Before you strap on that helmet, make sure it:
Is designed for the right activity (bicycle helmets are different than those for skateboarding/rollerblading)
Fits properly – helmets that are too large or small will not protect them as they should
Does not have any cracks or defects
Has a SNELL or ASTM seal of approval on it.
Is replaced after a crash or when it no longer fits correctly
  Get more helmet tips for kids » (Spanish and English)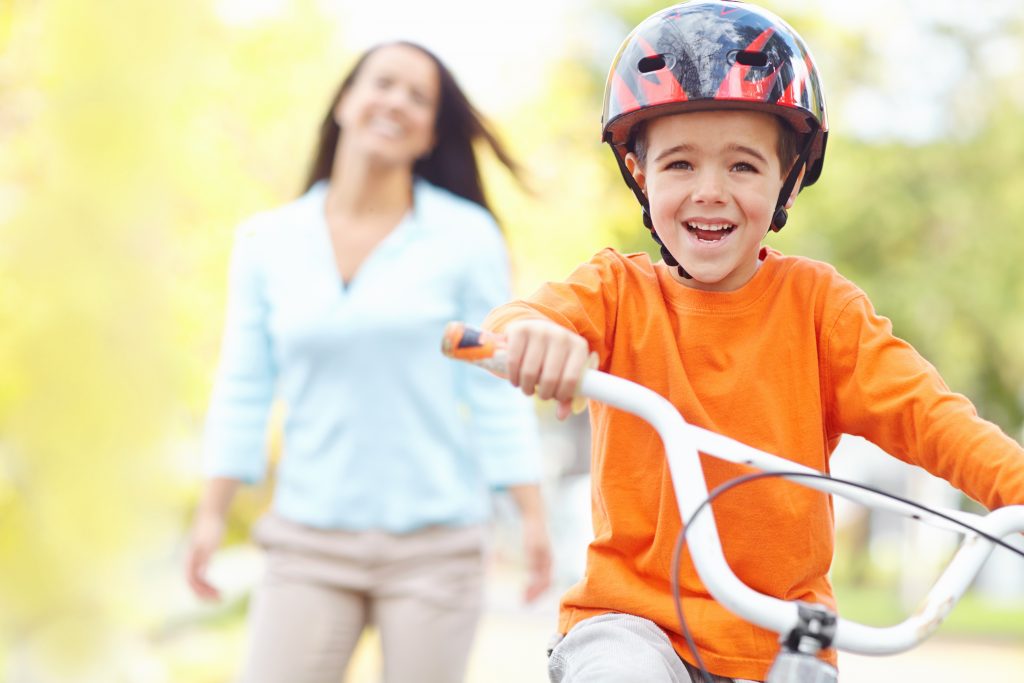 Teaching your child to ride a bike is an exciting milestone. After the training wheels come off, make sure you keep up the lessons so they know where and how to ride safely.
Kids 10 and younger should stay on sidewalks and areas without cars
As kids get older and are ready to venture farther, make sure they learn important rules of riding and practice with them.
Ride with them to school or the park, until you are sure they are skilled and comfortable to do it on their own. And make sure you always wear YOUR helmet to set a good example for them.
Review safe bicycle riding manuals with them and practice.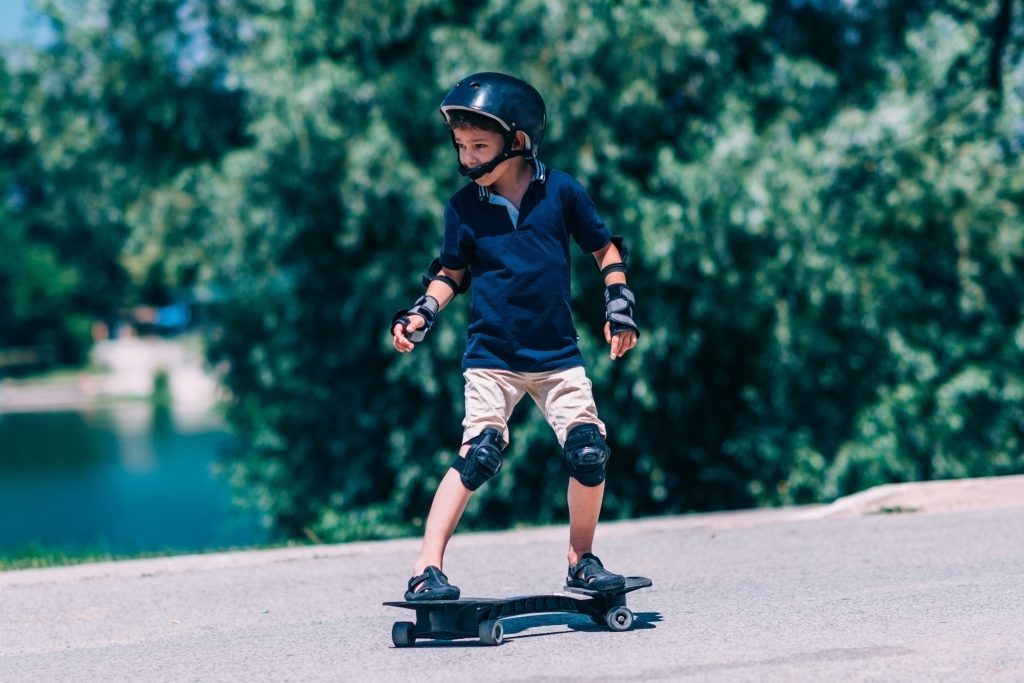 Don't forget the safety gear that can help prevent injuries when your kids are using bikes, skateboards, scooters and rollerblades:
A properly fitted, approved helmet
Knee pads, elbow pads and gloves
Reflective clothing so drivers and pedestrians see them
Reflectors or lights on the front and back of bicycles
Appropriate footwear – sneakers or shoes should be worn instead of flip-flops or open sandals.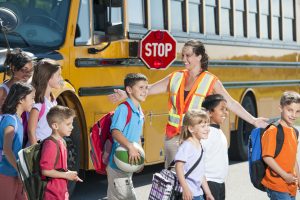 Riding in Cars, Busses, Trucks
When getting picked up, wait in a safe place
(away from the trees, bushes, cars)
Wait until seen by the driver to go near vehicle
Stay seated while the vehicle is in motion and use seatbelts
Have the driver drop you off on the curbside if possible
Wait for the driver to signal that it is safe to cross the street
Look left-right-left before crossing the street
View the School Bus Safety Infographic – Schoolbusfacts.com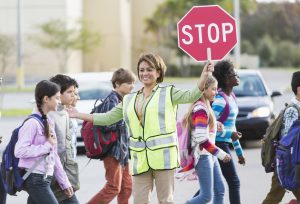 Walking in School Zones
Watch for cars – because drivers may not always see you
Look left-right-left before crossing the street
Obey crossing guards
Do not wear headphones or use electronic devices while walking – so you can hear and see approaching vehicles
Be careful walking in parking lots where cars and buses may be pulling out.
Wait at designated drop-off and pick-up areas for parents
View the Dangers in School Zones Infographic – Safe Kids Worldwide
47.5
million people in the US ride their bike annualy
66
percent of U.S. runners run on roadways
5
is the average age when most kids learn to ride a bike
Top 10 Pointers for Parents
Videos and Resources for Parents
Teaching your kids to be safe while walking, cycling or riding in the car isn't easy, but there are plenty of resources to help guide you through every stage:
Car Seat Safety by Age: Educational videos on how to choose and install seats for your children, Children's Hospital of Philadelphia – Watch videos
Beyond Booster Seats: When is My Child Ready for an Adult Seatbelt, NHTSA – Watch video
Graduated Driver's License Made Simple: New Jersey, Impact Teen Drivers– Watch video
Distracted Walking: The Growing Phone-Related Danger, NBC News – Watch video
"Staying Safe In The Car" tips for parents  – View brochure
Car Seat Recommendations for Children – View Guide
Being a great parent doesn't make you a great driving instructor.
Don't worry – there are lots of great driving schools.